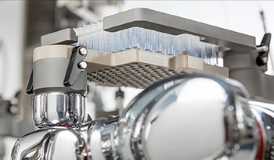 Optimizing freeze drying solutions for the Pharma Industry
For more than half a century, IMA Life Freeze Drying Solutions has been the gold standard when it comes to providing the benchmark for freeze drying solutions to the pharmaceutical and biotech industries.
UK supermarket cuts carbon footprint through innovative technology
Supermarket chain Sainsbury has managed to heavily reduce the carbon footprint of a heating and cooling installation at its 9,300 square meter supermarket in Crayford, Kent, in the UK. This has been done by using innovative technologies combined with an intelligent energy management system.
Environmentally friendly supermarket
Keeping food fresh with CO2 and brine. Supermarket refrigeration systems commonly use synthetic refrigerants such as R404A and R22.
Cooling food with transcritical CO₂
The majority of scientists agree that the world's climate is changing, and that the cause is human activity.
Breaking new ground for transcritical CO2 systems
BITZER Australia approached SWEP to create a new transcritical CO2 system for a Woolworths grocery store in Sydney, Australia. SWEP has led the global development of ultrapressure BPHEs for transcritical supermarket refrigeration for the last decade and was prepared to solve the challenges that the hot Australian climate poses for transcritical systems.